Phu Quoc sits in the azure waters of the Gulf of Thailand, closer to Cambodia's shoreline than Vietnam's. The island's blonde beaches surround tropical rainforest, interrupted by clusters of brightly painted fishing boats and peppercorn plantations.
As awareness of the island grows, it's beginning to see more visitors, but there are still secluded coves and boutique hotels that our Vietnam specialists can recommend. We visit Phu Quoc regularly, topping up our knowledge of the best things to do and places to stay, so we can advise you on how to experience it, depending on your interests.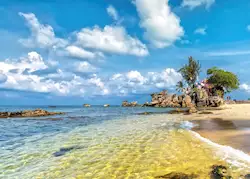 Originally Cambodian territory, the island was claimed by Vietnam after it liberated the Cambodian people from Pol Pot's regime in 1979. Although politically contentious ever since, Phu Quoc is now populated by Vietnamese fishermen and farmers, and visitors are warmly welcomed into the relaxed pace of island life.
If you'd like to learn more about the history of the island, Coi Nguon Museum in the main town Duong Dong has a large collection of local exhibits such as ceramics, many of which have been retrieved from shipwrecks around the island.
On the south side, you can visit the 20th-century Phu Quoc Prison, which is now a museum. The jail was used by the French to house detainees during the First Indochina War and then by US forces to detain Viet Cong prisoners of war.
Most visitors come to the island to relax on the flaxen swathes of sand. The aptly named Long Beach is draped along the west coast from Duong Dong, almost reaching Phu Quoc's southern tip. Lined with open-air restaurants and beach bars, it's the island's most developed beach, but it retains a laid-back ambiance.
For more seclusion, you can take a taxi to one of the untouched coves along the north or western coast, or sail over to the An Thoi Islands, a group of islets off Phu Quoc's southern coast. Hotels run boat tours or private charters, stopping at isolated beaches, snorkeling spots and fishing villages. Diving can also be arranged.
One of the island's largest industries is the production of nuoc mam, a pungent fish sauce that appears in every restaurant. Visit a distillery — Duong Dong has the largest — and you can learn how the sauce has become a staple in Asian cooking. Nuoc mam is fermented in aged wooden vats, and distilleries look more like wineries. We don't advise buying any of the sauce, as many airlines have banned it due to its strong odour.
The majority of Phu Quoc is blanketed in forest, with Phu Quoc National Park covering more than half the island. It's a conglomeration of thick primary dipterocarp forest, stark-white melaleuca woodlands and coastal dry forest. Tangled mangroves creep out into the sea, creating waterways in the park's marine reserve where dugongs swim.