Sitting on the marine-trade route between India and China, Phuket is a medley of the Chinese, Malaysian, Indian and Thai cultures that have left their mark on the island. Tin mines and rubber trees once brought inhabitants their fortune. Thanks to the pull of its congenially laid-back beaches and clear waters, it's still the richest area of Thailand.
Linked to the Thai mainland by a narrow causeway, Thailand's largest island is peppered with high-end wine bars, smart restaurants, and hotels ranging from the luxurious to simpler properties. The long swathes of beaches are interspersed with limestone cliffs and groves of mangrove trees. It can be quite commercial but there are still lesser-known areas to explore.
Personally, I love the less visited white-sand beaches of Phuket's northwest. Add in the proximity to the nearby paradise islands of Phang Nga Bay and a trip to Phuket never disappoints.
Thailand specialist Mat
Things to see and do in Phuket
Take a street food tour
Phuket town's wide selection of rustic food courts, side-street stalls and markets make it a hot-spot for local delicacies. Many stalls have been run by the same family for generations, their ancestors bringing dishes from India, China and Malaysia. With a local guide you can sample a variety of specialities and learn how dishes have been adapted to absorb Thai ingredients and influences.
Moo ping (marinated grilled pork), eaten straight off the skewer, is a popular local choice. It's served alongside a variety of barbequed sausages and chicken satays. The haw mok are a surprise – looking like little custard tarts, they're actually filled with crab or fish mousse and served with coconut milk, all neatly wrapped in a banana leaf.
Join a cooking class
You can delve further into the tastes of Phuket by taking a cooking lesson. The Blue Elephant cooking school is one of the best, running half day courses. Beginning in the local market, you're first introduced to the herbs, vegetables and meat that are key in Thai cookery before heading to the Blue Elephant's ultra-modern kitchen to begin crafting a four-course meal.
You're taught to make modern creations like crispy crab soufflé alongside more traditional dishes such as pomelo salad – made from a large fruit related to the grapefruit. On completing the course, you're rewarded with the recipes to take home.
Day cruise around Phang Nga Bay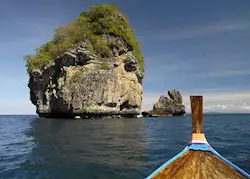 To the northeast of Phuket, the mangrove-topped limestone islands and sandy coves of Phang Nga Bay are best appreciated by sea. On a boat cruise around the bay you can sail among the pinnacles of rock that jut up out of the sea, a karst landscape created by the ocean gradually eating away at the soluble limestone.
You can also join a group on a junk (a traditional sailing boat) with flapping sails and a wooden sundeck. For a more exclusive experience, it's possible to cruise on a private long-tail boat, a distinctive type of transport in Thailand. Phang Nga Bay can become saturated with other boats, but your crew can take you to quieter coves hidden among the cliffs.
Stroll around Phuket Old Town
A hundred years ago, Phuket attracted ambitious entrepreneurs from all over Asia, keen to make their fortune from tin mining. The rows of grand Sino-colonial (Dutch architecture with a Chinese influence) mansions in Phuket's Old Town are proof that many realised their dreams. The area is compact enough to discover on foot, and amid the historic buildings are quirky cafes where you can try oliang – a Thai iced coffee made with condensed milk.
The Thai Hua Museum is a good option if you're interested in learning more about the confluence of cultures on the island whilst the Phuket mining museum is a good excuse to explore the lavish Portuguese mansion it's housed in. Visit on a Sunday and the Lard Yai, or 'big market' is open, showcasing everything from herbs and vegetables to fluorescent t-shirts.
Unwind on the beach
Phuket's turquoise-blue water and long stretches of white sand framed by palm trees have earned it the status as one of the most popular beach destinations in Thailand. This does also mean it can be inundated with visitors. Head north to find a quieter side of the island, with more exclusive hotels and quieter beaches.
Surin Beach is one of the better public beaches, still maintaining more of a village feel. Some of the most luxurious hotels here have semi-private beaches – usually shared with another hotel – and staying at one is the best way to enjoy a peaceful beach stay.
Festivals, events and seasonal reasons to visit
The nine day Vegetarian Festival, sometimes known as the Nine Emperor Gods Festival, occurs in October. Originating from the Chinese belief that abstinence from meat maintains peace of mind, families bring their household gods to the local temple amid vibrant parades and blessing ceremonies. The festival is becoming well known for demonstrations of self-mutilation, from fire walking to cheek piercing. It's fascinating, but can be gruesome to watch.
Songkran, or Thai New Year, is celebrated over the 13th to 15th April each year. A celebration of unity and cleansing, people travel home to their families and ritually pour water over Buddhist statues, symbolising purity.